The 1K outpost refers to an outpost located at X:1000,Y:1000.
It is a little more difficult to achieve than the Sky City, because diagonal journey doesn't allow one to just hold one arrow key.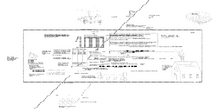 A stairway leads to the 1K outpost, built by "the stairs guy". The outpost itself is fairly small compared to the Sky City. In the middle there is a logbook intended for people to write their names and current dates in, although it seems that someone has deleted all the entries recently.